de Luna is administered by
del Nomade Eco-friendly Hotel
PUERTO PIRAMIDES - VALDES PENINSULA - PATAGONIA ARGENTINA

| | | | | |
| --- | --- | --- | --- | --- |
| | | English | | |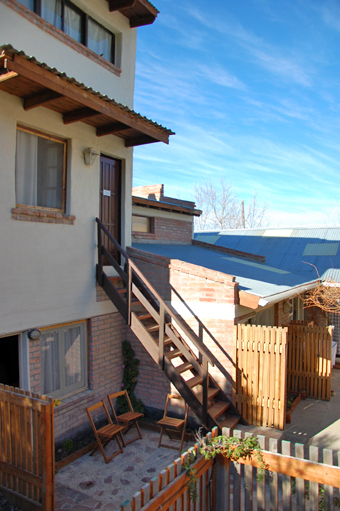 Apartment with kitchen and private bathroom
Ocean and dunes View
Mini-star on the ground floor, with kitchen "kitchenette" equipped
Ask for rates
- Minimun stay: 2 nights-
The property also offers
2 rooms with private bath and separate entrance, overlooking the backyard.
Ask for rates
- 2 or more nights: 10% OFF -

info@deluna.com.ar

Tel. +54 280 4495083 Av. de las Ballenas s/n U9121XAQ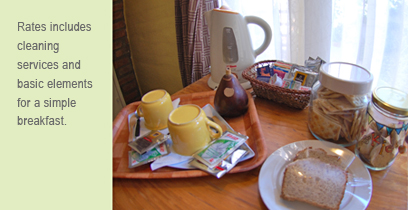 Persons: 2 / 3

Ask for rates

Facilities: kitchenette + bathroom + ocean view.
Persons: 2

Ask rates

Facilities: private bathroom.
Persons: 2

Ask for rates

Facilities: private bathroom.
Due to the great influence the winds in this part of Patagonia have on maritime activities we recommend that you organize your stay, allowing for at least a few days in our town. This way you can ensure your possibilities for an excellent experience.
Photographers and Film Makers from around the World: Puerto Piramides is central station for those who come to film and photograph the natural beauty of this unique natural world heritage site and del Nomade (de Luna is administered by del Nomade Eco-friendly Hotel) was created with the needs of these people in mind. We have thought through every detail the photographer, cameraman or screenwriter will need; many plugs for recharge batteries, constant temperature control and locking closets for more comfort and security. We do not offer TV, we consider that it is not necessary to distort so much nature with media interference. They are often opposite frequencies.
Whales Season: Each year the area surrounding the Valdes Peninsula, from May to December, is occupied by the presence of hundreds of Southern right Whales (Eubalaena Australis). Puerto Piramides is the only port in Argentina where you can embark on a whale watching tours. Aboard Zodiac style RIBs, Catamarans and Cruceros, a unique and unforgettable encounter with these giants in there natural habitat can be experienced like no other place in the world. Del Nomade will orient you with respect hours, the different services and availability for each of the six companies that offer whale watching tours.
Orcas Season: From the tail end of Feb. through April Orcas(killer whales) can be observed from the coast in Punta Norte and from mid. Oct. through Nov. in Caleta Valdes. These amazing attacks take place during high tide offering a couple of opportunities each day. Puerto Piramides is located within the protected area of this nature reserve and 75km distance from Punta Norte and Caleta Valdes, the two areas where the Orcas attack sea lions and elephant seals using their unique stranding techniques. del Nomade (de Luna is administered by the del Nomade Eco-friendly Hotel) organizes special tours designed for photographers, cameramen and nature lovers who would like to improve their possibilities for witnessing this impressive and unique demonstration of natures adaptations.
Year 'Round SCUBA: with sea lions is an unbelievable, safe and funny experience! They are sea mammals and you can find them in "loberias" ( natural places where many of them stay all together during certain time) usually small islands near the coasts or pieces of the coasts over the sea called "restingas". The basic equipment consists in a wetsuit, snorkel, swimming, and diving mask, enough to swim in those places and share the sea lions curiosity...it seems like they dance around you!! Is common to see them doing "acrobatics" with just 3/4 m. of water depth. They are really friendly while they are swimming" Dive with sea lions is the main attraction. Puerto Piramides and its surrounding waters are considered a temple for diving in Argentina.
Kayaking and Trekking: When you lean towards adventure and direct contact with nature, remember that in Puerto Pirámides we have activities that will keep your mind, body and soul young. Excursions in sea kayak, coastal trekking and mountain bike are organized by local, experienced guides who will get you off the beaten track, back into nature and make you feel alive. In del Nomade (de Luna is administered by the del Nomade Eco-friendly Hotel) we will provide you with access to the hours and availability of these tours. Personalized wildlife tours are offered. Excursions and transportation in the Peninsula with guide interpretation of the local and unique eco-systems. Visit the South American Elephant Seal, Sea Lion and Magelanic Penguin colonies and see Guanacos, Darwin's Rhea and the Elegant Crested Tinomon along side the dirt roads. To visit the three most important geographic regions and the animals that habitat these areas you will travel some 300km over dirt and gravel roads. Due to local conditions and difficult access it is recommended that someone who knows the area drives, and in any case, drive slowly.
Sun and Sand: The micro climate of the Valdes Peninsula offers its beaches up for enjoyment and exploration during several months of the year. From December through March, summer in the southern hemisphere, Puerto Piramides and its beaches are known as an excellent tourist attraction. Summer is the dry season and the uninterrupted sunny days begin between 5 and 6 in the morning and sun setting later than 9 in the evening. Although this is an area known for its winds, the natural protection that the bay of Pirámides offers means that navigation and water sports are possible in the bay of Piramides much more than in other parts of Coastal Patagonia. Even though the months of May through August are cold, from September to April the climate is favorable, more so than in the rest of Patagonia. There are many beaches, varying in size and dimension. Keep in mind the huge tidal change that can offer from more than a kilometer to just a few meters of accessible sand, depending upon the beach.
info@deluna.com.ar

Te. +54 280 4495083 Av. de las Ballenas s/n U9121XAQ